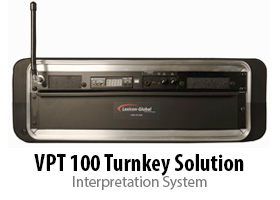 Order your VPT100® system with our easy-to-use TurnKey Upgrade.
We take your VPT100® system and install it in our specially designed transportable wheeled cases. All of your components are "rack mounted "in our specialized TurnKey Upgrade case which comes with retractable handles and wheels.
This upgrade makes your system as simple to operate as turning on a light switch. No training is required. All you have to do is plug in the power and you're ready to go!
The case has a retractable handle and wheels and may come with a utility drawer . The TurnKey case can easily accommodate adding wireless microphones making your system completely self-sufficient with maximum effectiveness.
Prices start at $2,856.85

Regular Price $3,280.00
Wireless Microphones and Mixers are easily added
Each case is recommended for two languages


Request a Quote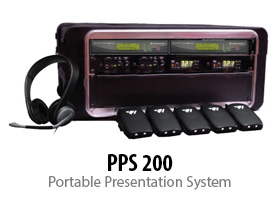 The PPS-200 system is a combination of the VPT100® system and TurnKey Upgrade plus two (2) wireless microphones to create an all-in-one easy to use and deployable solution.
The PPS-200 system comes complete with all components of a VPT100® plus two (2) UHF wireless microphones. One hand-held wireless and one lapel wireless microphone. This provides your presenter complete hands-free ability to share her message as well as a second microphone for additional presenters or for Q&A sessions during your meetings. This assures your interpreters can hear every word clearly and accurately and are able to do the best job interpreting.
The PPS-200 allows you the ability to have the same consistent performance and quality for every meeting.
Prices start at $3,545.15

Regular Price $4,299.00
Wireless Microphones and Mixers are easily added
Each case is recommended for two languages


Request a Quote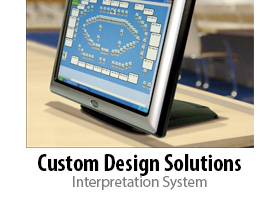 We specialize in building custom systems such as our proprietary VPT100® and PPS-200 systems.
With over 20 years of real-world experience, we have studied and used all of the equipment we sell and rent which has taught us how to customize a good fit of brands and models based on functionality, features and price point to design excellent solutions for any application. You can count on our professional engineers to customize the best solution for you.
We offer virtually every quality brand available globally including:
Brahler
BOSCH
SENNHEISER
Williams Sound
ListenTech
and many more.
Prices start at $2,987.17

Regular Price $3,599.00
May be upgraded to 500 receivers and
Up to fourteen (14) languages


Request a Quote