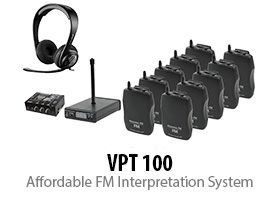 The VPT100® system was specifically designed for community level organizations to provide all the basic features of the larger more expensive systems, at a fraction of the cost.
The VPT100® system comes complete with a compact monitoring unit so one (or two) interpreters may do the most important part of their job, listen directly and accurately to the presenter in their own headsets. This provides better concentration and ultimately increases the quality of interpretation. The transmitter gives you up to 250,000 square feet (22k square meters) of coverage. Ideal for schools, churches, community groups, focus groups, etc.
The basic VPT100® System includes microphone headset, monitoring unit, transmitter, 10 receivers with headsets and includes all necessary cables . . . batteries are included.
Prices start at $2,471.10
Regular Price $2,999.00
Additional receivers are only $93.20
May be upgraded to 5,000 receivers and
Up to eight languages



Request a Quote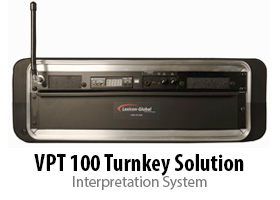 Order your VPT100® system with our easy-to-use TurnKey Upgrade.
We take your VPT100® system and install it in our specially designed transportable wheeled cases. All of your components are "rack mounted "in our specialized TurnKey Upgrade case which comes with retractable handles and wheels.
This upgrade makes your system as simple to operate as turning on a light switch. No training is required. All you have to do is plug in the power and you're ready to go!
The case has a retractable handle and wheels and may come with a utility drawer . The TurnKey case can easily accommodate adding wireless microphones making your system completely self-sufficient with maximum effectiveness.
Prices start at $2,856.85

Regular Price $3,280.00
Wireless Microphones and Mixers are easily added
Each case is recommended for two languages


Request a Quote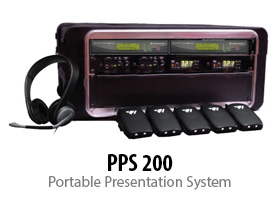 The PPS-200 system is a combination of the VPT100® system and TurnKey Upgrade plus two (2) wireless microphones to create an ll-in-one easy to use and deployable solution.
The PPS-200 system comes complete with all components of a VPT100® plus two (2) UHF wireless microphones. One hand-held wireless and one lapel wireless microphone. This provides your presenter complete hands-free ability to share her message as well as a second microphone for additional presenters or for Q&A sessions during your meetings. This assures your interpreters can hear every word clearly and accurately and are able to do the best job interpreting.
The PPS-200 allows you the ability to have the same consistent performance and quality for every meeting.
Prices start at $3,545.15

Regular Price $4,299.00
Additional receivers are only $93.50
Additional Microphones are available for only $471.21 each
May be upgraded to 2,000 receivers and p to eight languages


Request a Quote